Gig Gear provides musicians, pro audio, A/V, entertainment and all other gigging professionals with novel products and solutions to make their jobs easier and more enjoyable.
THERMO Gig Gloves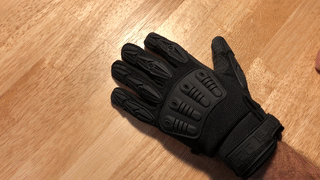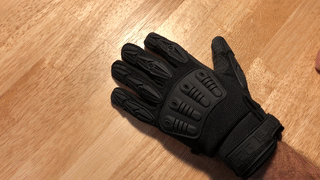 sale
THERMO Gig Gloves
THERMO Gig Gloves: the work glove designed for production & live event professionals for use on cold weather gigs, shows and events.
Gig Gloves are the best way to protect your most valuable asset on any gig - your hands. Sometimes, protection from impacts and abrasions isn't enough. Production professionals know what it's like to have to work on outdoor productions (like festivals or concerts) or location shoots, or to load-in and out in cold weather, possibly with heavy winds, rain or snow falling. It's not fun. Plus, if you're also expected to perform as soon as you're done unloading and setting up, your hands can be stiff from the cold and that does not bode well for the performance. THERMO Gig Gloves are the ultimate "No Compromise" work glove - protection & safety, full featured functionality and warmth, all in one glove.
THREMO Gig Gloves include all of the features and benefits of the Original Gig Gloves plus an added "complete coverage" internal layer of super warm fleece that keeps your hands protected from the cold while still allowing you to perform all of the functions you need without having to take your gloves off. Aside from providing warmth, the extra layer of fleece also is incredibly soft, comfortable but still not too thick so as to bulk up the glove too much. THERMO Gig Gloves are hands down (pun intended!) the best work glove to use on gigs and jobs during the autumn and winter months or any cold weather environment.
"No Compromise" work glove provides protection and long lasting use, full featured functionality, and a warmth

"Complete coverage" internal layer of fleece for warmth and comfort covers the entire interior of the glove.

TPR molding on back of hand and fingers ensures ultimate protection against impact, abrasions or pinching; articulating design ensures reduced fatigue even during long periods of use

Black material with blue highlights allows for discreet movement on or off stage while still allowing for user visibility of hand and finger positions in low light environments

Padded grip provides protection of palm while allowing a strong grip for carrying, even in slippery conditions

Fold-over fingertips on thumb, pointer and middle fingers allow for use of smaller tools and items without removing the gloves. For example: drum keys, guitar picks, allen wrenches, media storage cards, batteries; also allows for use of touchscreen devices without removing glove. Gig Gloves work with touchscreen devices even without removing the fingertips.