Gig Gear provides musicians, pro audio, A/V, entertainment and all other gigging professionals with novel products and solutions to make their jobs easier and more enjoyable.
Gig Gloves ONYX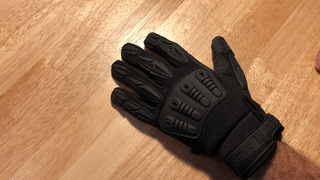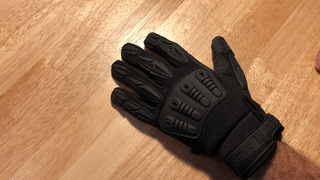 sale
Gig Gloves ONYX
Working the stage doesn't mean you should take center stage. That's why Gig Gear designed Gig Gloves ONYX, all black work gloves perfect for backstage discretion while supporting the total hand protection Gig Gear gloves are known to provide.
Gig Gloves ONYX provide the same trusted hand protection found in all Gig Gear work gloves, without any distracting colors, tags, or logos. Perfect for theater techs, film, and live event productions, ONYX gloves are engineered for maximum protection and comfort on the job, while remaining invisible to the audience.
Gig Gear ONYX features 360° protection at all touch points. The top of the gloves features TPR molding, engineered to protect hands from impact, pinching, abrasions, and other worksite safety hazards. Generous padding along the palm provides extra protection while allowing for a strong grip necessary for no-slip carrying, moving, or adjusting. The articulating design encourages circulation during use, improving blood flow and reducing fatigue during long periods of use.
Strong nylon threads ensure your gloves last longer without sacrificing flexibility or comfort, while a mesh fabric allows trapped air to escape, keeping hands cool and comfortable while reducing sweat and odor in the gloves.
Built for the 21st century, the fingertips on these gloves are touch capacitive, so professionals can use smartphones, tablets, and other screens while keeping their hands totally protected. For tasks that require bare fingertips, Gig Gear's unique fold-over fingertips protect the tops of fingers from vulnerabilities (while still cloaked in black!), while leaving fingerpads completely free to complete the task at hand.
A built-in hook on each glove makes accessibility a breeze. When not in use, attach to a belt, keychain, or to each other – whatever is most convenient and easy to access for the wearer.
Available in six sizes, Gig Gloves ONYX make for the perfect stage hand companion. No matter the production role, Gig Gloves are designed to keep hands safe and secure without impacting performance or getting in the way. So go ahead and ditch the permanent marker – Gig Gear's all-black work gloves have this covered!
· Jet black for total discretion: Skip the black permanent marker! Ideal for film, theater, and live event productions, Gig Gloves ONYX provides the same trusted, total protection of Gig Gear work gloves, without the brightly-colored accents and logo that distract from the performance at hand.
· Premium hand safety features: Designed with ultra-tough nylon thread stitiching throughout, Gig Gear ONYX gloves feature TPR molding on the back to adequately protect hands from impact, an articulating design to help reduce fatigue, and a padded grip protects the palm while allowing for a strong grip.
· Fold-over fingertips: Use small tools and items without removing your hand protection. Fold-over fingertips are built into the thumb, pointer finger, and middle finger, built to keep fingers covered from the top while exposing tips on the underside.
· Breathable mesh:It can get sweaty under stage lights or at an outdoor summer festival. Gig Gear ONYX work gloves are crafted from a breathable mesh that allows trapped warm air to escape, keeping the wearer comfortable and dry while reducing smells.
· Touch-capacitive fingertips: Protect hands at all times while on set. Touch-capacitive fingertips allow wearers to use smartphones, tablets, and other touch screens without removing the gloves.